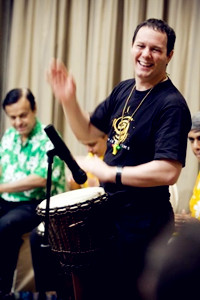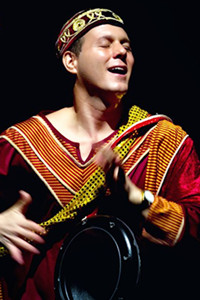 Amit Gilboa
(Singapore)
Middle Eastern Drumming Instructor / Darbuka/ Tabla Percussionist
Drums of Singapore Facilitator
Team-building Facilitator
(Please go to team-building page)
NAC-AEP school assembly program Facilitator
(Please go to NAC-AEP program page)
For Shows / Teambuilding / Workshops :
Please contact
Amit Gilboa
@ + 65 97931141
or email drums@pyramidarts.com.sg
Amit Gilboa is Singapore-based American Percusionist speciallized in Middle Eastern Drum - Darbukar / Tabla. He is a Mediacorp TV celebrity and well-known performer and experienced instuctor in middle eastern drumming. He also facilitates corporate events, teaming building and school assembly programs with different kinds of drums.
Amit's experience with percussion courses includes working as a lecturer at LASALLE-SIA in 2005 and 2006 where he co-conducted the World Percussion Ensemble class. He has also conducted private classes from 2003 to 2005, through which his student performance group, The Drummers of the Nile, performed at numerous events including Chingay 2005, three Holistic Living Festivals and Very Karmic @ Zouk. He has performed with middel eastern dancers from all over the world. He has also conducted finger cymbal classes and drum classes for Middle Eastern dancers in Singapore, Hongkong, Taiwan, Malaysia and mainland China.
For children with special needs, Amit conducted weekly music therapy classes at the Genesis School from 2002 to 2007. The classes comprised children with disabilities ranging from mild to severe. The school's drum performance group, The Genesis Stomptroopers, performed regularly at school events to enthusiastic approval from fellow students, staff and parents.
Amit has also conducted many different one-off workshops in Middle Eastern drumming, for various age groups. These include several programmes at esplanade, the Asian Civilisations Museum, and workshops at ACJC, Hwa Chong Institution, SMU, Hollandse School, Holy Innocents High School, Kids Arts Fest, SultanGate Kidz Festival as well as at children's birthday parties. More adult-oriented workshops include drumming-and-dancing workshops for LIU, Marakon Associates, Hewlett Packard, UPM and People's Association. In all, the ages of workshop participants have ranged from pre-kindergarten to middle-age. In addition, all the school assembly programmes which Amit leads, although mostly performance-based, also include a heavy interactive component.
Amit has also acted as facilitator for numerous rhythms-based teambuilding events. Clients include IBM, Sandoz Pharmaceutical, NEC, Nanyang Primary School, M1, Bank of America, Cadbury-Scweppes, Shell and McCann-Erikson. Amit is currently the lead facilitator for the Asian region for Australian-based Human Rhythms.
Amit's middle eastern music band has performed at esplande for concerts and Womad.
Amit's drum performances usually include engaging audience in interactive segments during the performances. Most often, Amit teaches the audience to clap along to various rhythms and so perform along with the musicians and dancers instead of simply watching. Other segments, such as the "Ching Game" or the "Composition Game" also bring the audience directly into the process of making music. Finally, his "Walk on the Wild Side" challenges the audience to clap along to several odd-numbered rhythms such as karsilama, a nine-beat Turkish rhythm.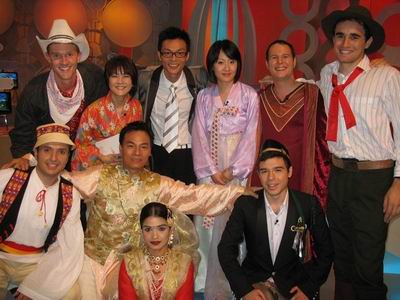 Amit Gilboa in Mediacorp TV show "It's a small world", hosted by Mark Lee